Prepare to witness the triumphant return of electronic music legends Above & Beyond as they grace the stage of the famed Red Rocks Amphitheatre once again. After a two-year hiatus from the iconic venue, the renowned trio is set to deliver two consecutive nights of mind-blowing performances on Thursday, October 19, and Friday, October 20. With their previous appearances selling out in record time, Above & Beyond is again ready to captivate a crowd of nearly 20,000 devoted fans.
Pre-sale will begin Tuesday, July 18 at 10 am MT. Sign up to receive access: aboveandbeyond.nu/RedRocks.
Each night at Red Rocks promises an unforgettable experience, featuring a carefully curated selection of supporting artists. Thursday's lineup includes the rising talents of anamē and KASABLANCA, while Friday's lineup showcases the dynamic performances of Durante & HANA, and Simon Doty. But that's not all—both nights will kick off with an extraordinary 'Flow State' performance, where Above & Beyond's Paavo Siljamäki will provide the enchanting soundscape for a guided yoga and meditation session, accompanied by the soul-stirring presence of Elena Brower.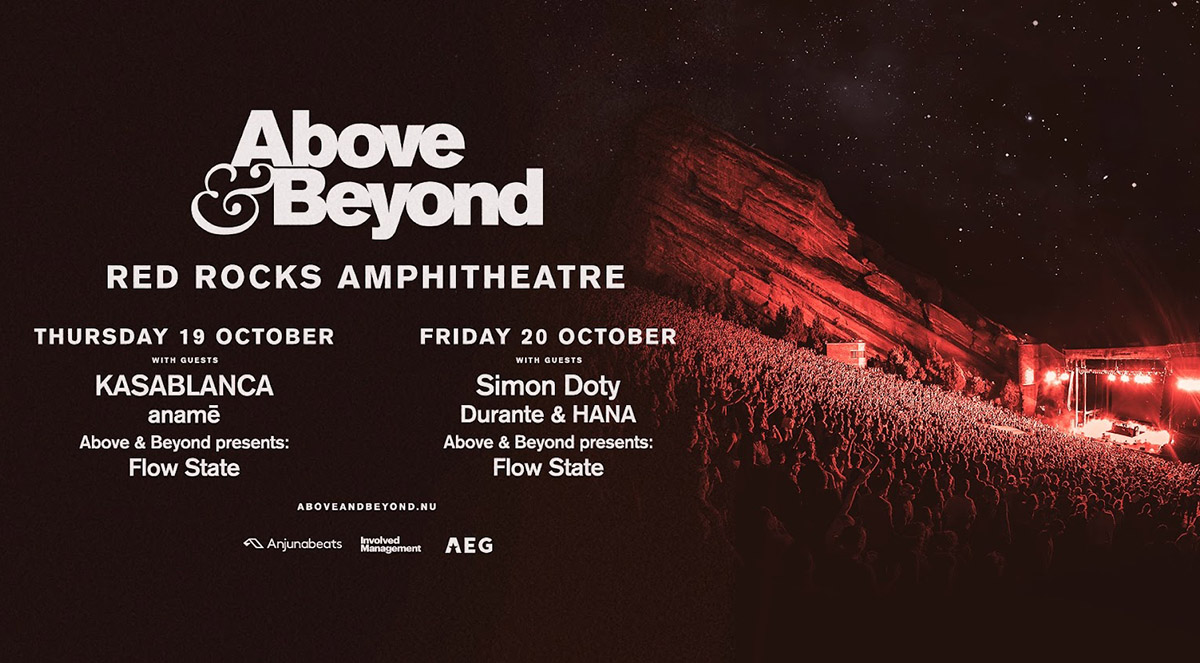 For two decades, Above & Beyond, comprising Jono, Tony, and Paavo, has been pushing the boundaries of electronic dance music. They are the masterminds behind the iconic Anjunabeats and Anjunadeep record labels, and their weekly radio show, Group Therapy, attracts millions of listeners around the globe every Friday. The trio's extraordinary talent and dedication to their craft have earned them two GRAMMY nominations for anthems like 'Northern Soul' featuring Richard Bedford and 'We're All We Need' featuring Zoë Johnston.
Above & Beyond are not just producers; they are storytellers and visionaries. Their illustrious career spans four critically acclaimed studio albums, 14 compilation albums, two groundbreaking 'acoustic' albums, a dedicated album for yoga and meditation titled 'Flow State,' and even a film score. Their vast discography is filled with club hits, dance remixes, and a plethora of musical gems that have become anthems in the hearts of their fans.
Recently, Above & Beyond achieved a significant milestone with their first RIAA-certified Gold record for the captivating track 'Don't Leave.' This ambient, piano-based composition stems from their 2019 album 'Flow State,' explicitly created for yoga and meditation. The album has amassed a staggering 360 million streams since its release, solidifying Above & Beyond's ability to connect with listeners on a deeply emotional level.
As the anticipation builds for their return to Red Rocks Amphitheatre, Above & Beyond's upcoming performances promise to be nothing short of extraordinary. The ethereal melodies, pulsating beats, and profound energy they bring to the stage are sure to create an unforgettable experience for all in attendance. Don't miss the opportunity to witness electronic dance music history unfold before your eyes as Above & Beyond takes their rightful place at the pinnacle of EDM once again.
Get ready to embark on a journey of a lifetime, where music and emotion intertwine, at Red Rocks Amphitheatre with Above & Beyond. Brace yourself for a sonic adventure that will ignite your soul and leave you craving more. This is not just a concert; it's an immersive experience that will transcend the boundaries of sound and transport you to a world of pure ecstasy.